FLOW RELEASE 5.3
FLOW 5.3: EVENT ATTRIBUTE CALCULATIONS, CONFIGURATION TOOL ENHANCEMENTS, DEPLOYED DATA SOURCES, CHART ENHANCEMENTS. AND A WAY TO CHANGE LIMITS ON THE FRONT-END.
Wait. What? Version 5.3 of Flow is already here? It seems like it was just yesterday that version 4.3 had rolled off the production line. I still see some customers running that version. It only shows that the planning and development department has their work cut out for them as we stay true to our commitment to release a new version at least every 4 to 6 months.

A lot has happened since then: a wholly overhauled Flow Web Server, Templates and Tiering. And, also a new and hassle-free licensing model. We are making it easier for the end client.
We always strive to enhance our release cycle, and we are in the process of reducing this cycle further, by adopting a new planning methodology that delivers new experiences and delivers critical features into the hands of our clients even faster.
This release is no different. At the core is a change, although under the hood, that will drastically enhance the user experience of the product, and incorporates requests from our community, to deliver better projects even faster.
With this, I would like to thank everyone that contributes to the Flow community. That helps us to grow the product to something unparalleled in the Information management space.
A solution that focuses on Manufacturing Operational data, delivering actionable information as speedily as possible. Ensuring that you stay informed and equipped to make the best decisions to drive your operations forward.
USER EXPERIENCE AS A FLOW ADMINISTRATOR: MODEL VIEW LOAD TIME.
The defining moment for any software package is usually the very first interaction you had with the software. Trust me; those impressions will last quite a while!
One thing that we try to bring to the party is a UX that is intuitive and responsive – no one wants to wait for something to happen! So, we went to work deep in the core of our model view loader, because we recognised that as your model grew, your performance diminished.
We've dramatically reduced the time between you opening the configuration tool and being able to get going and configure. I can't wait for the reaction of some of our larger implementations when you open the tool for the first time after the upgrade.
User experience as a data consumer: New charts and configuration options
LIMIT FORM
In some cases, the process owners responsible for setting targets and limits are not Flow Config Tool users. Traditionally, if a target or limit needed to be changed, the process owner had to be a Flow Config Tool User. But, this meant they needed the client tool installed or have access to one. Or, a change request had to be made to your Flow Config Tool users, to make said changes on your behalf.
A smart solution to this is linking the limit to a measure and changing the value of the measure through a time-period form and thus putting the power to configure the targets and limits into the hands of those responsible for the process.

But, what if you don't want to use measures to facilitate your target/limit setting workflow? In Flow 5.3, we've introduced a "Limit Form" which allows users to change Limit and Target values from their browser. Now obviously, security and permissions can be configured for restricted access.
EVENT FORM: ABILITY TO HIDE MEASURE ADDED AS COLUMNS
We introduced the concept of adding a measured value against an event run in version 5.2, and in this release, we've extended this functionality.
Depending on the number of measures that must be captured manually against the event, we are providing the data capturer with the capability to hide or unhide the measure/s they need to capture in the Form. Eliminating a massive Form with numerous columns that will make data collection painful.
DEDICATED COMMENTS CHART
You have asked us if one can "see" all the added comments, either via forms or reports. True, you've always been able to display the grey "comments indicator", and to click on a value that has a comment, and see any associated comments at the bottom of your browser window.
As you wished, we've created a "Comments Chat", where you can show all comments added for a particular time range and configured measures.
As you wished, we've created a "Comments Chat", where you can show all comments added for a particular time range and configured measures.
TABLE REPORT ENHANCEMENTS: EXCEPTION REPORTING AND COLLAPSED SECTION MEASURES
We've received numerous requests since re-writing our web server and charting capability (Flow 5.0). We encourage you to keep these enhancement requests rolling in! We want to improve Flow's visualisation capabilities continuously.
In this version, we've enhanced nearly every table report:
•• Comparison table report
• Ability to specify a row always to be visible when collapsing a section
• Ability to show rows based on null exceptions or limit exceptions – now you can create a report that only has values where there is a problem with the data or the process has operated outside the limits you configured
• Ability to add a link to another report or website in a column header
• Ability to add a placeholder (a "blank measure") for a cell. Useful when you do side-by-side reporting of similar processes across your plant/s. But, one of them may not have a value configured. For these, you can enter a blank measure which, if you'd like, you could even fill the cell with a colour that tells your report users that there is no value configured.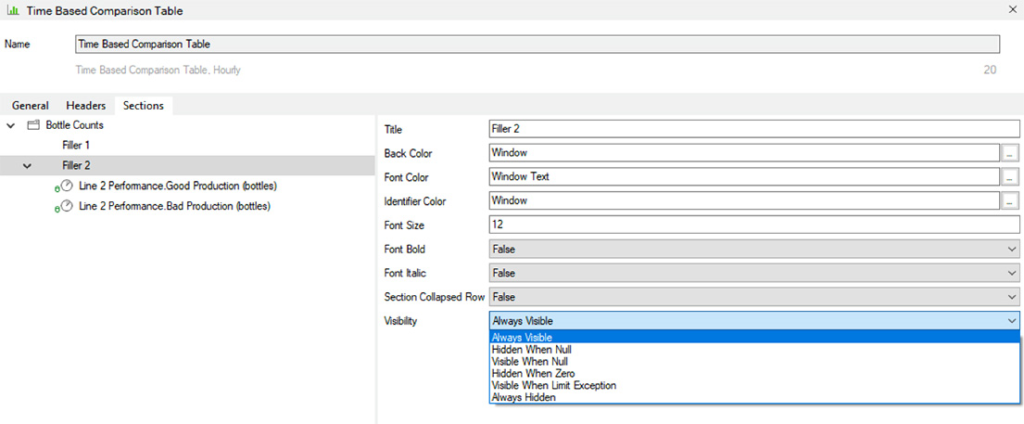 •• Portrait report
• Ability to show rows based on null exceptions or limit exceptions
• Ability to export data in the CSV (Comma Separated Values) format
•• Table report
• Ability to specify a measure to be always visible when collapsing a section
• Ability to show rows based on null exceptions or limit exceptions
• Ability to extend your column extensions to cater for numerous periods – now you can see not just the week to date on a daily report, but also what that KPI has been doing every week since the beginning of the month! Of course, a similar configuration may be applied to reports of other intervals as well.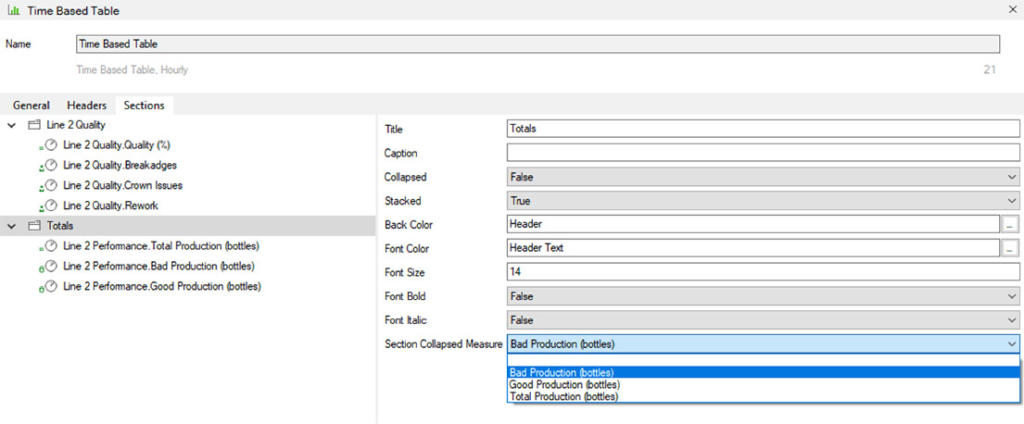 REMOTE PLATFORM DEPLOYMENT
More than ever are we seeing the world of IT and OT combining, and I think this time it's necessary and it's becoming critical, so the traditional boundaries are being redrawn, and collaboration is the name of the game. Plant data is becoming more and more relevant and should be able to be accessed from anywhere. We are also seeing more and more applications moving to either cloud-hosted infrastructure or private cloud infrastructure, especially in the information game.
But your data is generated right there at the rock face, so you need an easy, IT-approved, firewall-friendly, no SQL access, and a cross-domain way to get your data off-site.
Introducing the Remote Platform! All you need is to Install Flow on your edge node, open one outbound port on your firewall to the main Flow instance, and you've got data delivered to anyone in your organisation.
IT'S ALL ABOUT THE ENGINE
It's true. One does save the best for last. The Flow engine does all the magic in the backend, and it probably does not get all the credit it deserves… And now we've pulled more proverbial rabbits from the hat!
CALCULATED EVENT ATTRIBUTES – GIVE CONTEXT FROM EVERYWHERE
We introduced calculated event attributes in Flow 5.2, and again, our community jumped on this and wanted more! Thank you!
Now, one can access attributes from other events as well, giving you even more context for your events and measures!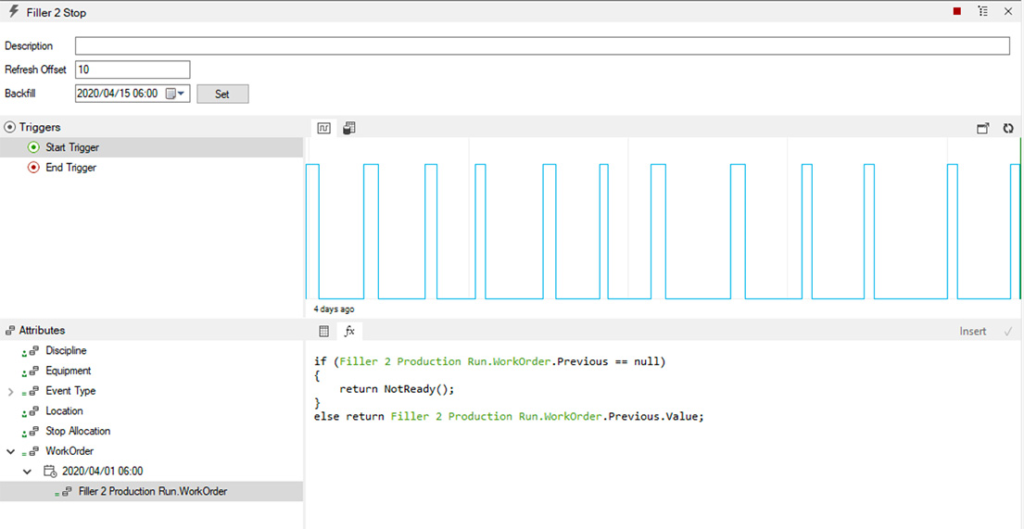 DEFAULT ATTRIBUTE VALUES: LINKED TO ENUMERATIONS AND ENUMERATION GROUPS, OF COURSE
We introduced a feature in Flow 5.2 to extend our capability when using Flow in simple OEE type applications – the ability to filter out reasons on an Event Form based on previously selected attributes. This feature caters for the typical requirement to only book certain downtime classifications against the specific department. The filtering was done as you loaded the Form and began to classify your reasons.
But, what if you want to classify, or at least give an initial reason, based on your trigger conditions? Well, we extended this capability to attribute values on an event as well, so that the engine can classify for you.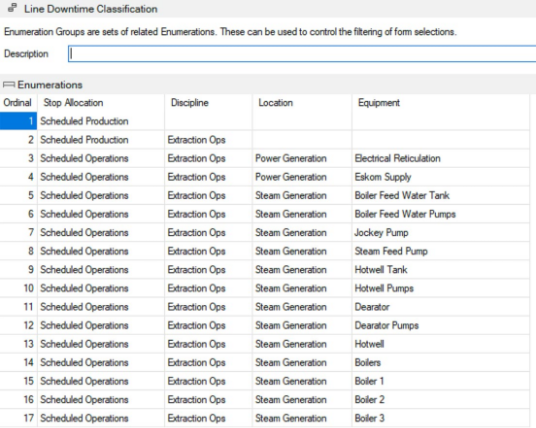 MORE UPDATES ON THE WAY
To learn more about all of the other changes and updates in Flow 5.3, see the release notes or the Flow user manual. We are also in the process of overhauling our web content. We shall include a web-based document repository with articles, how-to guides and our complete manual.
These can be accessed from our support website: https://support.flow-software.com/
Please register on the site and visit it from time to time for updated and additional content.
Watch this space!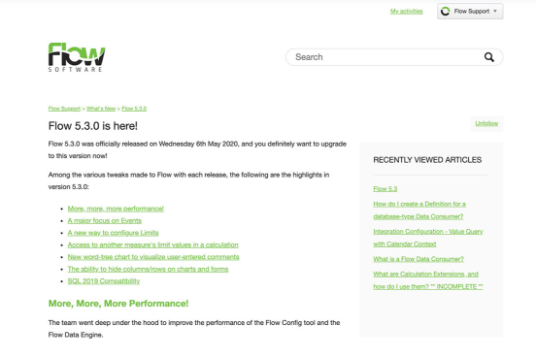 Tell us what you think and what you'd like to see in upcoming releases, and keep an eye out for Flow 5.3.x, arriving soon!